CURRENCY ADVICE
Foreign Exchange Services
Buying a property overseas? Want to get the best deal on foreign exchange? Calabria Property Services have teamed up with IFX ensuring that the costs of your overseas investment are kept to the very minimum.
IFX can help you to achieve the best exchange rates making your money go further. They can also offer a range of services that will help protect you against adverse currency fluctuations…
Why should I use IFX as opposed to my bank?
Staffs at your high street bank possess neither the expertise nor the market information to offer you competitive exchange rates or monitor the currency markets on your behalf.
How does IFX save me money?
Firstly, by offering better rates of exchange than the banks when you need to trade and secondly by helping you trade at the most favourable time. The purpose is always to get you more currency for your Sterling.
It all sounds complicated. Will I understand how it works?
Richard Nehme has significant currency experience and will explain everything in jargon free terms to ensure that you understand the best way to move forward before you make any trading decisions. IFX's aim is to save you money, not to confuse you with market terminology.
Is dealing with IFX going to be time consuming?
Definitely not. Opening a Trading Facility takes only a few minutes and then everything else can be dealt with instantly over the telephone. The money that you will save will be worth a few extra minutes.
How long do transfers take?
Transfers are delivered within 24hours as standard.
How much will this cost me?
There are absolutely no hidden/commission fees. The only cost will be a £10 wire transfer fee.
When a decision is made to purchase a property overseas, having the option to benefit from a good currency exchange rate is extremely important:
As an example,†Richard Nehme†states that "an off-plan property priced at €300,000 would have cost £250,000 in January 2011. However, because of currency fluctuations, the cost of this Pound to Euros transaction would have increased by a staggering £20,300 to £270,300 in July 2011, a 8.12% increase in just seven months due entirely to exchange rate fluctuations."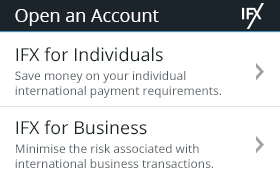 Please ask Calabria Property Services to request a free currency consultation from Richard Nehme at IFX